The Bridge between Academia and Industry
2024 presents the ultimate magnetics event...

May 22-23, 2024 I PASADENA CONVENTION CENTER
---
We're excited to share that registration is officially open for The Magnetics Show!
Plan ahead, benefit from early bird rates, gain access to the entire show floor and conferences by booking your visitor pass today.

Interested in exhibiting at the show?
BOOK A BOOTH
---
Meet our Advisory Board Members

Testimonials from each Advisory Board member are available on our website.

Advisory Board Spotlight
Get to know our Advisory Board members with our spotlight sessions. First up is Brad Dodrill (Senior Scientist at Lake Shore Cryotronics). Brad is a fitness enthusiast and a keen guitarist...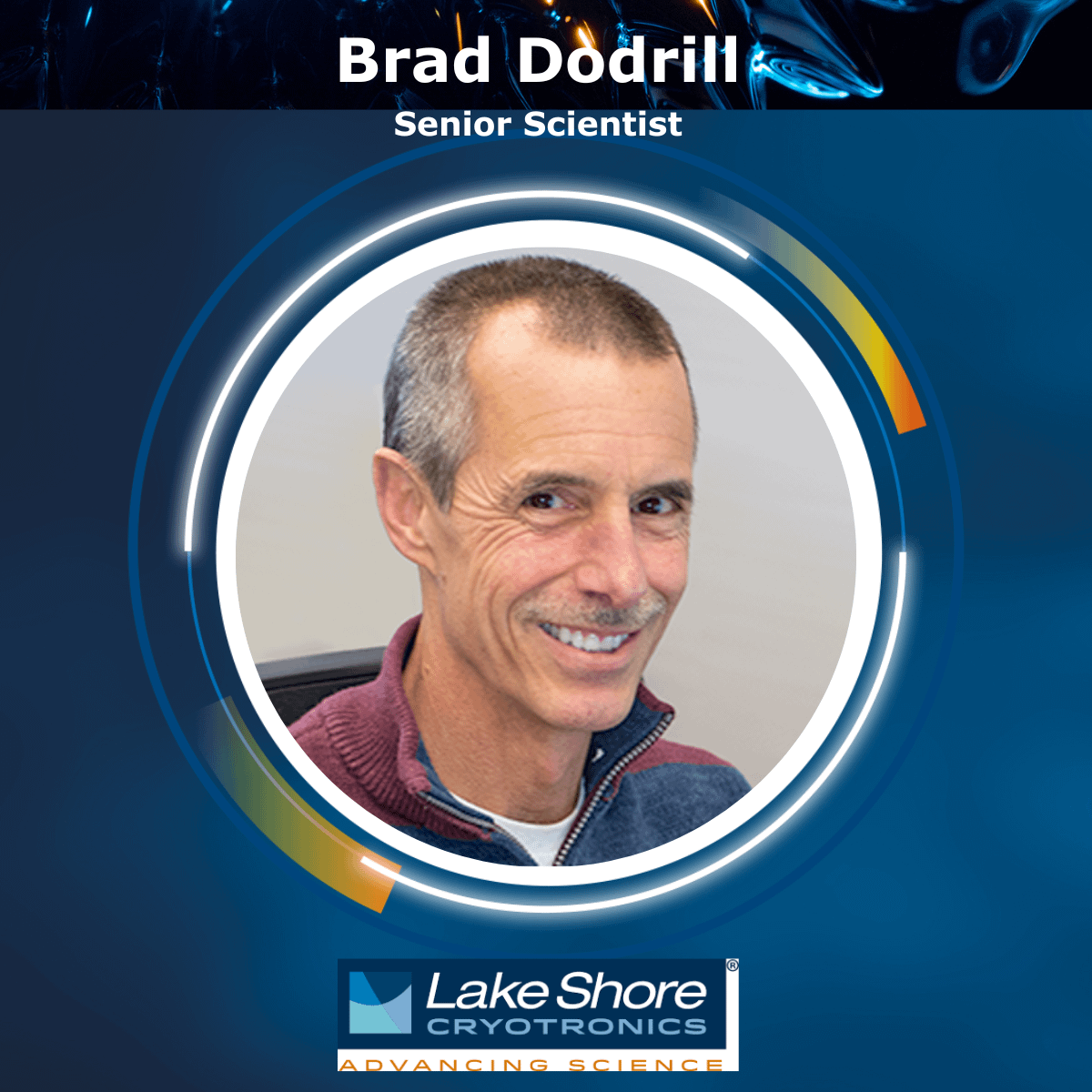 What is an Interesting fact about you?
I'm a physical fitness freak and a guitar player.
What are your hobbies outside of work?
Physical fitness, soccer, nature, music, reading (both fiction and non-fiction) and spending time with my family.
What do you hope to bring to The Magnetics Show?
Bringing the magnetics industry and researchers in academia focused on developing new magnetic materials closer together. Establishing stronger interactions and collaborations between industry and academia will benefit both and will help expedite the development and manufacturability of new magnetic materials with important and viable technological and commercial applications.
Favourite magnetic gadget?
There are simply too many magnetic "gadgets" to list. Magnetism, magnetic materials and their applications which pervade every aspect of our daily lives, and magnetic measurement techniques for materials characterization are all things I find insatiably fascinating.
What are you most passionate about within your career?
Albert Einstein once said "the important thing is not to stop questioning; curiosity has its own reason for existing", that is, we never stop learning. As an experimental physicist I use magnetic measurement systems and instrumentation to collect, analyse and interpret data for a wide range of magnetic materials and in the process of doing so I am constantly learning new things – this is my passion.
Proudest career moment so far?
The opportunity to develop the book Magnetic Measurement Techniques for Materials Characterization (Springer, 2021) together with Professor Victorino Franco. I've been blessed to have the opportunity to collaborate with many scientists in academia from the US, Europe and Asia. The experience and knowledge gained from these collaborations has been priceless, both personally and professionally.
---
The Magnetics Show 2024 Team

Introducing our team, each playing a crucial role in creating a bespoke show based on identified industry needs. Our newest recruit, Teddy shows real promise in the art of networking.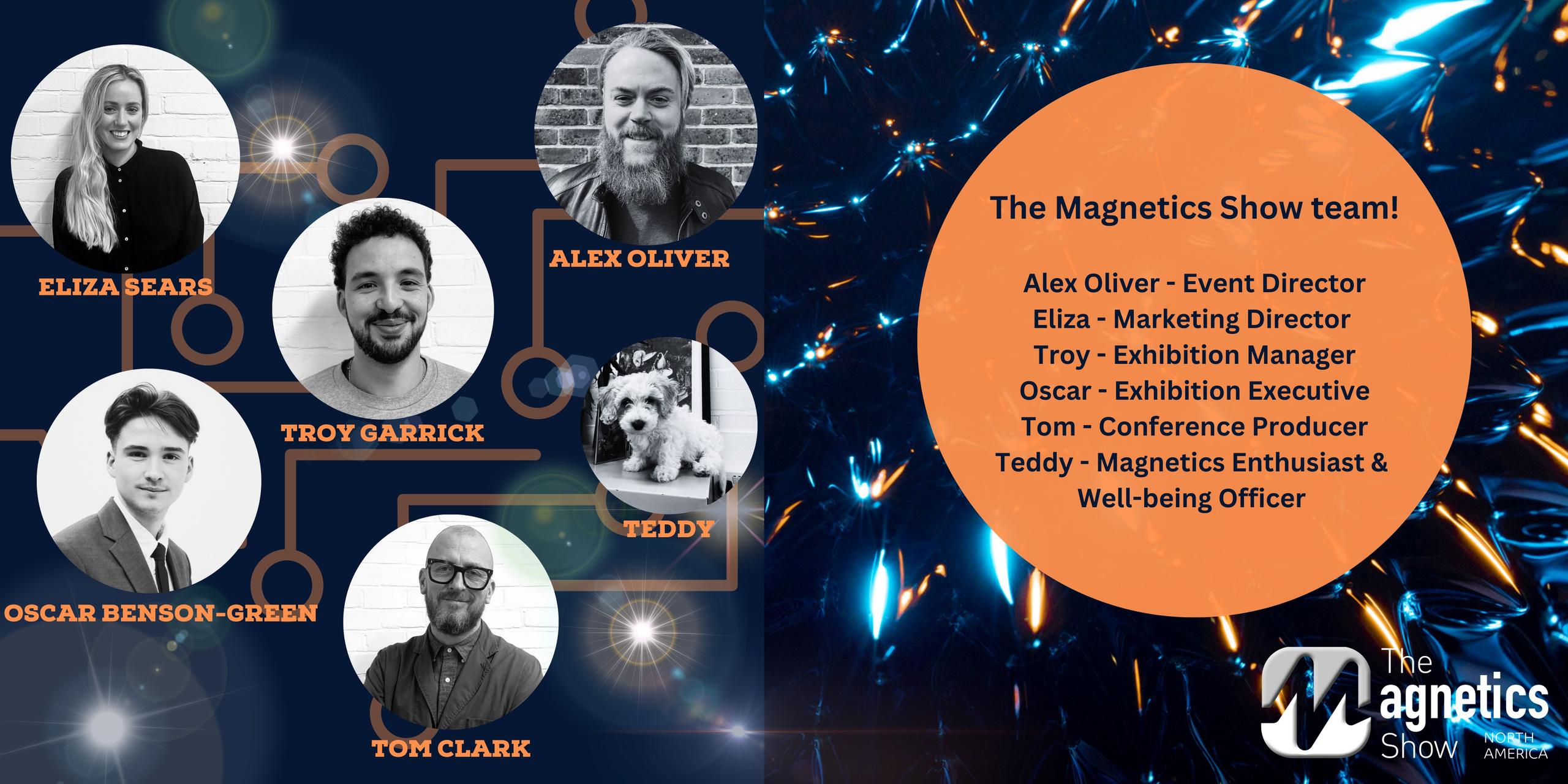 ---
Check out our Founding Exhibitors

We are thrilled to announce that along with our Founding Exhibitors we now have over 15 occupied booths, take a look at our floor plan.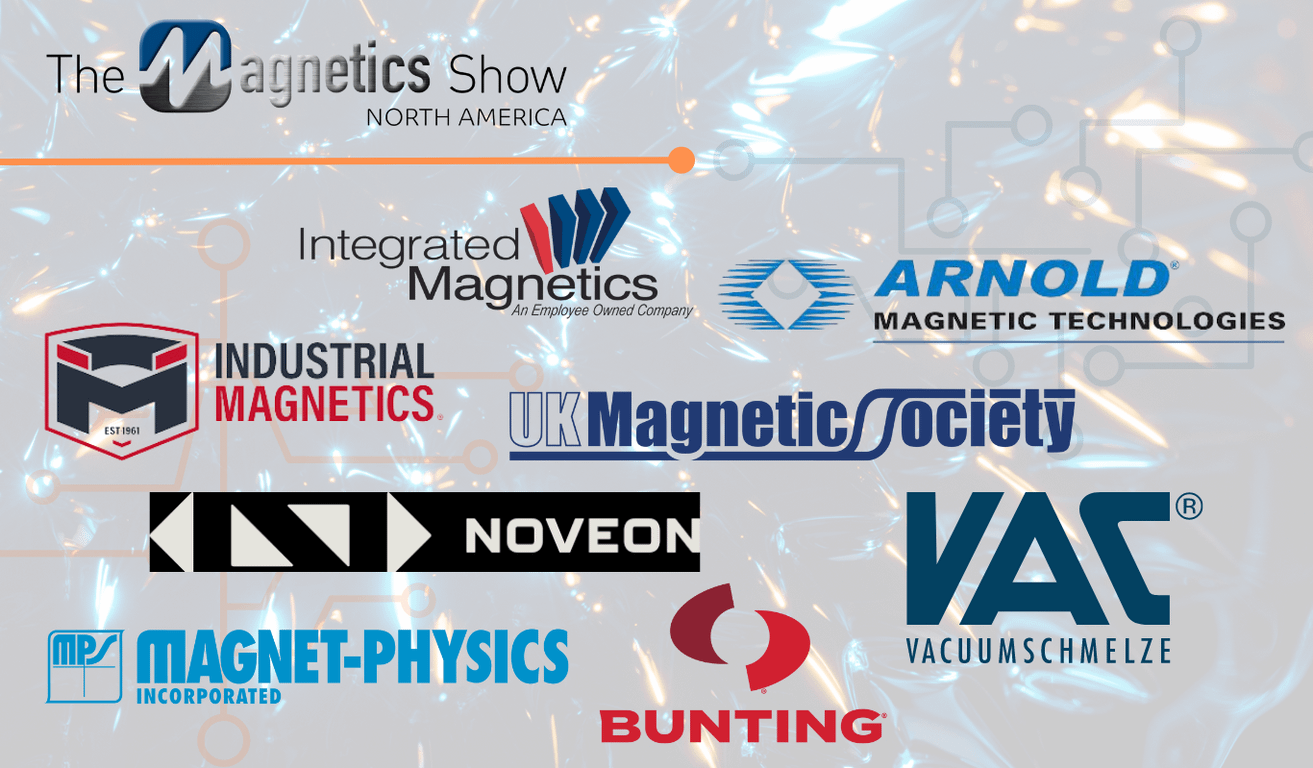 ---
Why Pasadena ?

Pasadena is a melting pot of industries, known primarily for being an epicenter for discovery and a city of science. Pasadena hosts institutional leaders such as the California Institute of Technology and the Nasa Jet Propulsion Laboratory. With over 300 tech companies, Pasadena is thriving, accessible and incredibly inviting. Additional prosperous industries within Pasadena include petrochemical value chain, logistics and distribution and professional/technical services.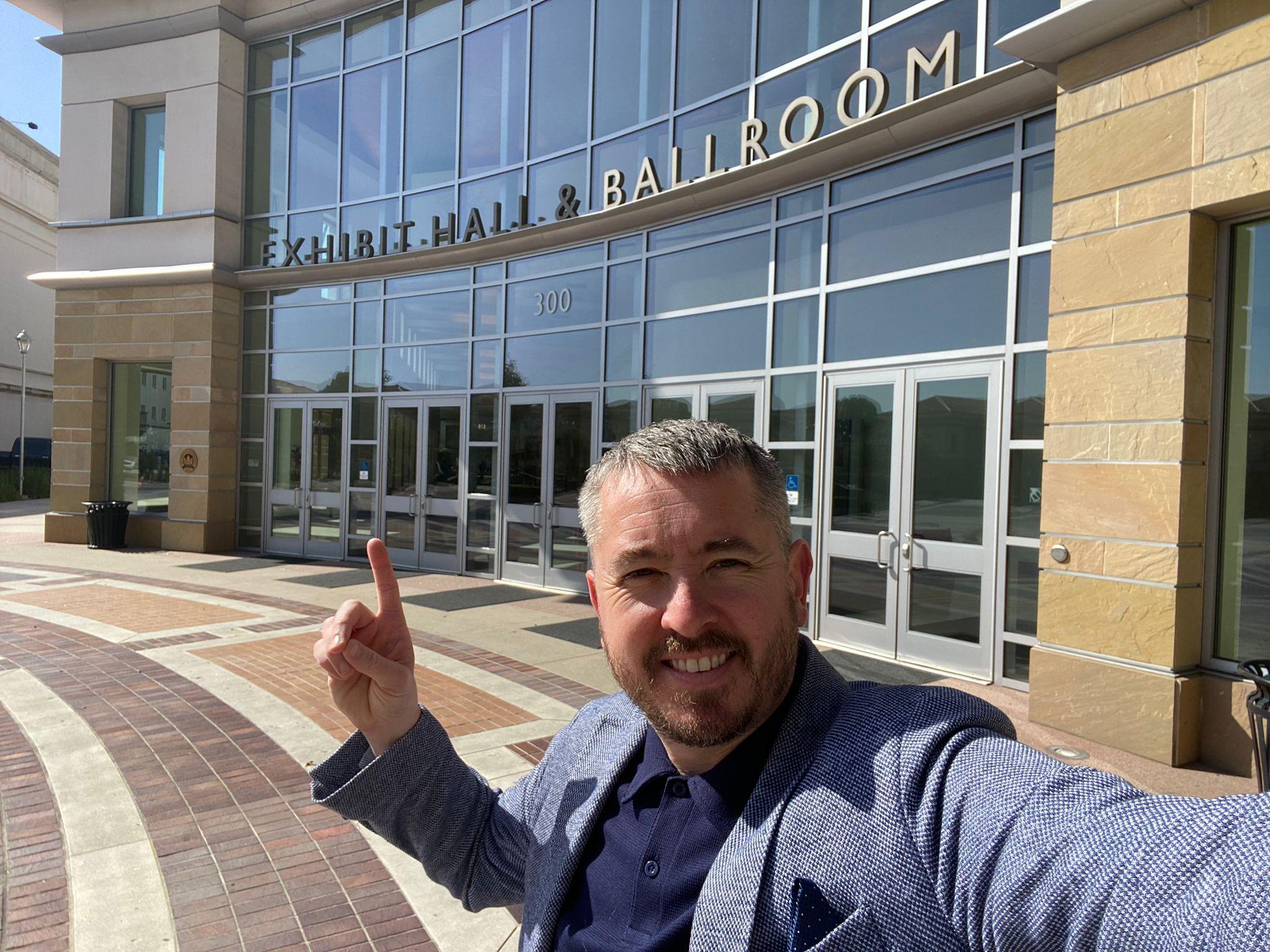 Read more about why we have chosen Pasadena to host The Magnetics Show.
CEO - Nathan Reuby has recently visited and has only positive comments.

"I visited Pasadena last weekend, I was incredibly impressed, what a cool city to host an event in. The venue is centrally located and close to safe upmarket downtown amenities and easy to reach from Los Angeles airport. The climate is great, there are an abundance of hotel rooms and extensive end use of magnets in California. It's a really great vibe there, the people are friendly and welcoming, looking forward to heading back next year!"
---
Magnetic Moment

Our Event Director, Alex and Exhibition Manager, Troy visited Bunting's
UK facilities in Berkhamstead and Redditch. Both Alex and Troy were blown away by the immensity of the machinery and highly technical processes used.
They were also lucky enough to attend the 'Lightweight Electromagnetic Drives' Conference at the University of Nottingham (The UK Magnetic Society).

The Bunting Berkhamsted facility focuses on supplying the full range of magnets, holding magnetics, and work holding magnets. As well as supplying high and low volume quantities of magnets, high investment supports the manufacture of magnetic assemblies and High Voltage Magnetising Equipment, including post assembly magnetising systems.

The Bunting Redditch facility engineers and manufactures Magnetic Separation and Metal Detection equipment to industry across the world. Technology encompasses permanent magnet, electromagnet, eddy current, stainless steel removal and metal detection systems, made to either standard designs or to our customers' exact requirements. Bunting's exceptionally large range of equipment allows them to separate and detect for a wide range of industries including: Recycling, Energy recovery, Food, Pet Food, Plastics, Powder and Bulk, Minerals and Quarrying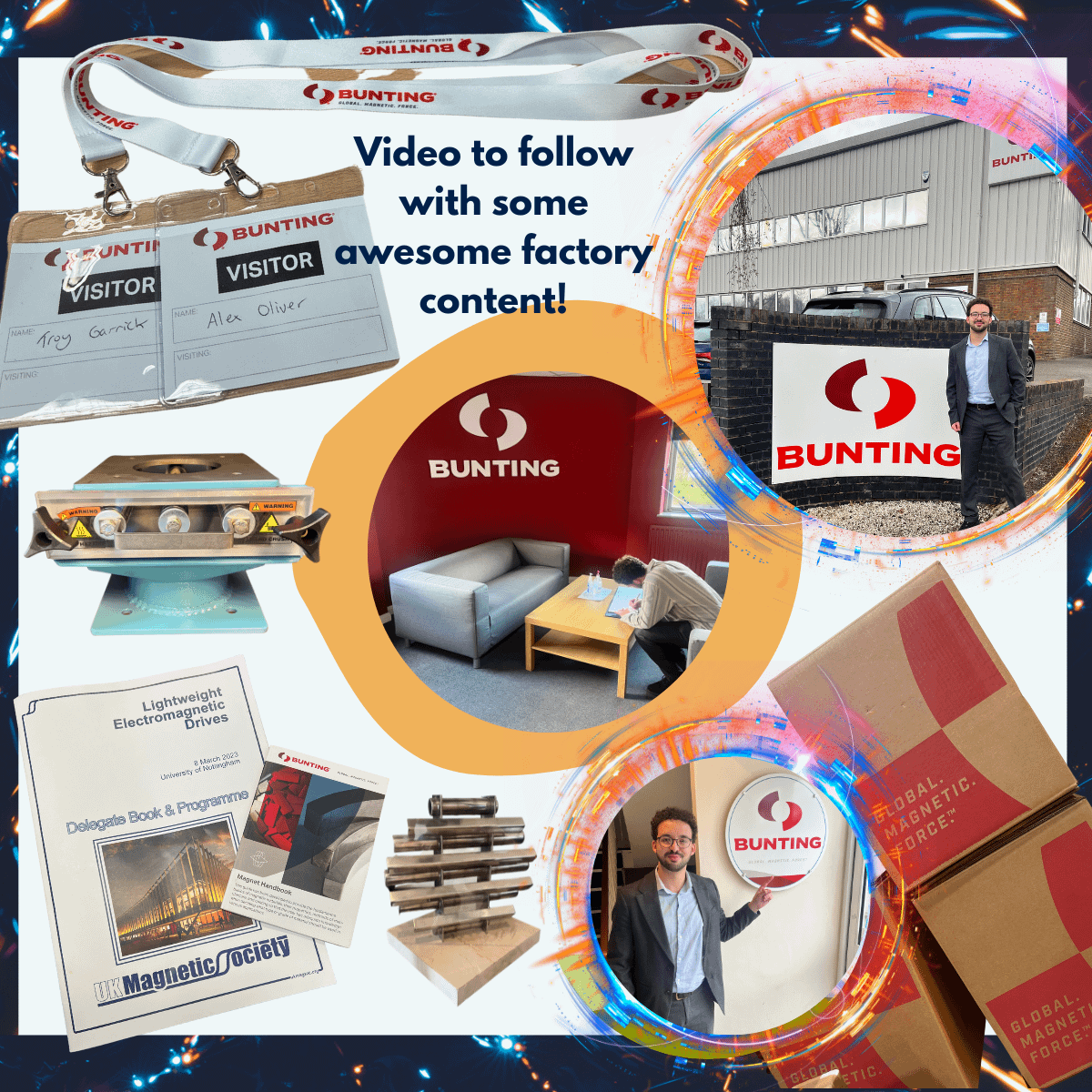 ---
Meet our Founders, Nathan & Alex

Co-Founders of Select Global Events